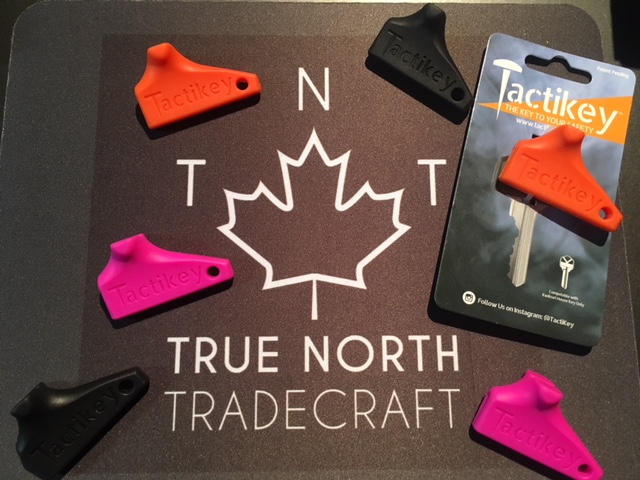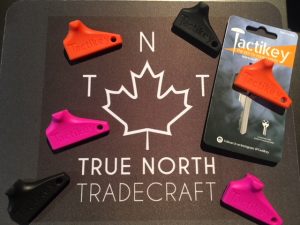 I recently discovered a new self-defence product – Tactikey.
Tactikey is an upgrade on an old-school, low-tech means of self-defence. The old "punch them with your keys" technique, except with some modern upgrades.
The product itself is a small (1 x 1.75 x 0.5 in), lightweight (6.5 g) and strong (TPE 110 Composite material) designed to ergonomically accept a standard Kwikset house key and give it a platform to use as an impact weapon. This design is helpful in reducing injury to the defender's hand while allowing the transference of force through the key point to the assailant's soft tissues.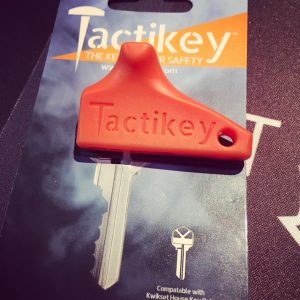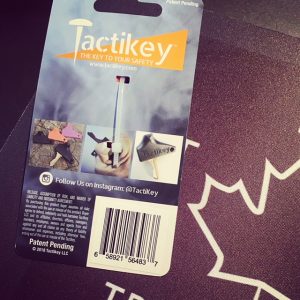 The combination of supporting grip and solid metal point is surprisingly effective and protects the user from injury well, unlike an un-shrouded key being used for the same thing.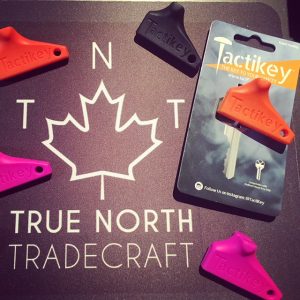 When I received my package of a few Tactikeys and was caught by several positive things:
VERY light
VERY small
VERY easy to add to your key ring
Usable in non-permissive environments and will likely not raise any red flags if inspected by authorities
Allow the key to be used for it's intended function AND as a self-defence implement and;
Comes in your choice of Blaze Orange, Hot Pink or Carbon Black.
Full details from website available here.
Along with the personalized note from them, I immediately equipped my Tactikey and went to work playing around with it.
I found that holding it was comfortable. The finish on the grip was soft and smooth but didn't slip.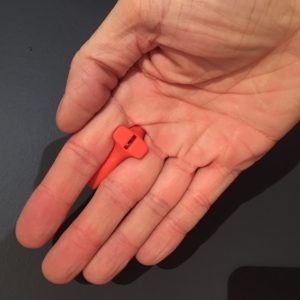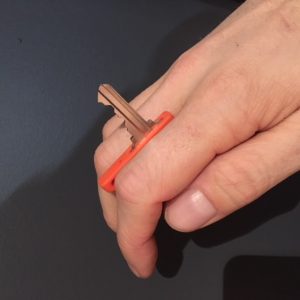 It intuitively holds well between the fingers and stays solid when striking.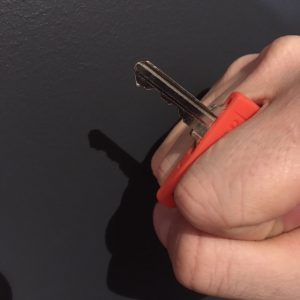 I had access to a building site where walls were being replaced and took a few jabs at drywall and lathe & plaster. The results were good (see below).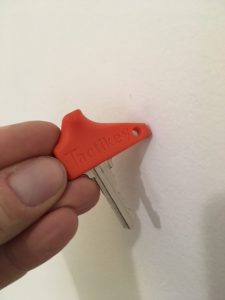 I was able to make holes in both mediums without pain or injury to my hand. The regular (un-sharpened key) penetrated both types of walls with relative ease making me feel confident that it could cause trauma to soft tissue on a hostile human target.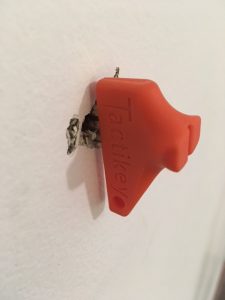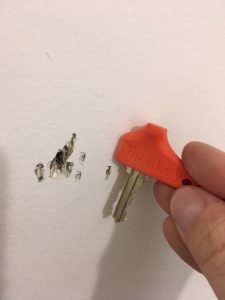 As it is a simple piece of plastic, Tactikey can go anywhere a set of keys can go and will always be ready as an added force multiplier if you should need it. I have added this to my Every Day Carry (EDC) as it is useful, lightweight, practical and effective. Along with the other items I carry, I feel it is a wise investment and doesn't add bulk of weight to your setup.
Although I haven't had the opportunity to hit a person with it at this point, I'll be sure to update this post with those results, should they occur. That said, punching holes in drywall happened very easily and I wouldn't want to be on the receiving end of a hit with one of these.
Tactikey also has a fantastic return policy on it's product (from their website):
"30 Day 110% Return Policy – Purchase with Confidence.
We at Tactikey work tirelessly to develop the world's most unique and efficient EDC products that will help you achieve well-being and safety. We believe in our products so much that we stand behind them with a no hassle, no questions asked, satisfaction guarantee 110% return policy. If you purchase any Tactikey product on our website Tactikey.com and you are not satisfied, return it within 30 days for a 110% refund. The guarantee is applicable to all purchases made from Tacktikey.com only and does not cover Tacktikey retailers. Retail purchases will be handled by the particular retail store's return policy. That is our commitment at Tactikey to you our customers."
Instructions on the use of Tactikey can also be found on their website here.
The one and only downside with Tactikey is that it is only compatible with Kwikset key blanks at the moment. If your house key or other keys on your ring are not of this kind, they may not fit properly. That said, Tactikey is working on different formats for several other major key manufacturers (like Schlage and Yale) and customers will be able to choose which works for them. In the grand scheme, this isn't a big deal. They will come out with others soon and, really, I'd sooner have a dedicated defensive key (a blank, sharpened) than my primary house key. If you do hit something or someone and bend it, you may have issues using your key after. Not to mention if you lose it in a fight, buddy will have your house key. I'd sooner have a non-key. I used an old, out of commission Kwikset key I had laying around for my test & carry key to ensure that doesn't happen. I will pick up a Kwikset blank and sharpen it with a file for primary EDC use in the coming days to ensure I have it the way I want it. You can pick up a Kwikset blank from anywhere that cuts keys (Home Depot, local hardware stores, shoe repair places, etc) and just ask them for one. Again, not a big deal right now as you're best off to go with a dedicated key or key blank for this particular use.
Have a look at their website, check them out on social media and feel free to pick one up for yourself and maybe some family members. For the money, I thinks it's a great deal and you get something solid and useful. I really like it and I bet you will too.
Till next time, stay safe and stay crafty.