RAIDOPS is a South Korean company which designs and distributes a variety of personal defence gear, knives and accessories made to very high quality specifications. A high percentage of their products are made from titanium, enabling a solid product with a low magnetic footprint and low weight. Their designs are also very practical and low-profile, giving them a minimalistic appearance and also the ability to be carried through many non-permissive environments without undue attention.
I purchased two personal defence products to try out a little while back – the Delta (one of several designs) and the Fighting Frog. They arrived very quickly direct from South Korea to Toronto and came as below.
(Quarter for scale)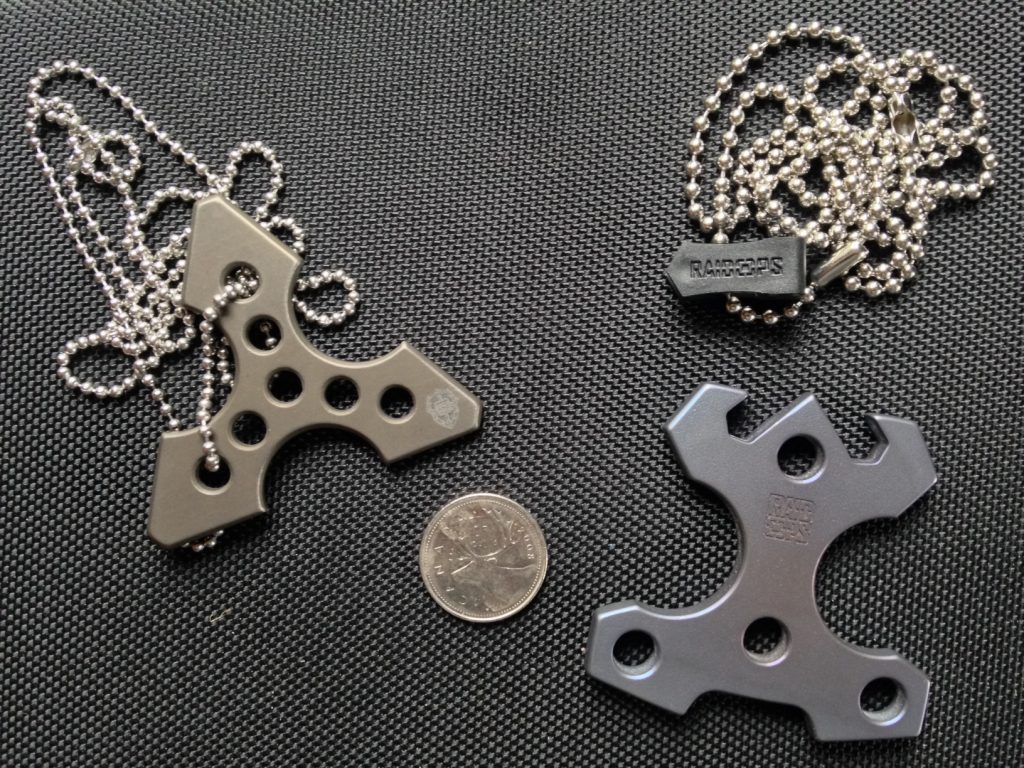 Upon taking each one out of their small boxes, I was surprised at how light they were. The titanium was indeed very light and very strong. The small ball-chain they came with felt heavier than the items themselves.
After handling each one, I was also very happy with the ergonomics. Both were very comfortable to hold and use.
They are intended to be used as impact weapons. Held between the index and middle fingers of a closed fist to facilitate acute damage to an assailant (See below).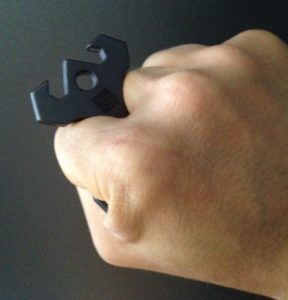 Small, light, but VERY sturdy. And no pain when hitting a tree, so a person should be just fine. By the way, it took some chunks out of the tree (I didn't have my phone for pics at the time – sorry!) so I can only imagine what it could do to a person.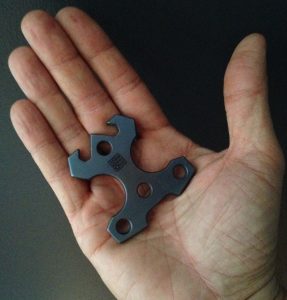 Though their prices may be a bit steep ($48 USD for the Fighting Frog and $40 USD for the Delta) it isn't too out of line with similar weight titanium products.
You can even double them and jewelry in non-permissive environments and you'll still have an accessible impact weapon if needed. Here I am wearing it overtop my Triple Aught Design Tradecraft Shirt for a better view.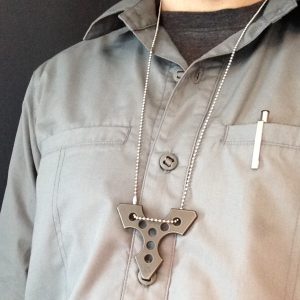 Again, lightweight, low-profile and easily worn in more non-permissive environments. No issues to wear in a Canadian context, as at that point, it's a fashion statement.
One thing I may look at, is the collection of RAIDOPS finger spinners. This is essentially a fidget toy that is made of titanium but doubles as an impact weapon. Here is an example. Though somewhat pricey ($110 USD) I may consider getting one.
At the end of the day, the strength, low weight, comfortable ergonomics and durability of the Delta and Fighting Frog make them effective and reliable. I recommend checking them out.
Stay Safe. Stay Crafty.