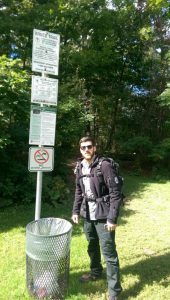 Every foray outside one's home brings with it the possibility of adventure and danger. This excursion was no different.
Our journey took us from the Southern end of the Bruce Trail (in Queenston Heights Park) to just north of Hamilton, Ontario.
*Note, due to personal circumstances beyond our control, we were forced to delay the completion of our trip and return home. We are, however, going to complete the rest in shorter blocks to ensure that our responsibilities at home are maintained in our absences.*
During our time on the trail, I managed to field test several items of kit (to be reviewed in separate posts) and streamline my hiking kit for better efficacy and efficiency. I found that several things I had planned out, thought I might need, or were "essentials", were not.
Depending on the context and profile of your outdoor adventure, your needs will change.
Here is a list of things that added weight, added bulk or were otherwise not needed given the profile of where we were going:
Teva sandals
shorts
second belt
short-bladed machete
small forest axe
expanded first-aid kit
water purification filter
extra sweater
fleece gloves
second dry bag
This stuff, though individually very useful in the right circumstance, became a hinderance. It added unnecessary weight and made it difficult to move swiftly along the trail. It also had the added unpleasantness of adding soreness to feet, shoulders and knees without any added benefit. The other tools and clothing that I had more than covered for the loss of the above-listed items. After ditching this stuff (at our accommodations at the end of day one) things got much better and our progress improved greatly.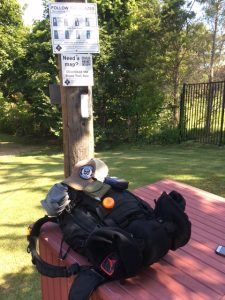 The trail itself was well marked and maintained (for the most part) and allowed for unimpeded movement. The weather was warm and clear. The terrain a never-ending series of up-and-down, so the quads and hams got a good workout every day. Hydration was maintained through the 3-litre bladder I filled-up every morning and I found that I never even got through the entire thing despite drinking almost-continuously through the day. It especially helped to have lunch and "hydrate" at a local winery along the way, just off the trail.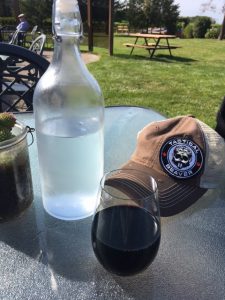 The topography of the Niagara Escarpment and the Niagara Region in general is beautiful and rugged. The views from the tops of the cliffs were open for miles – all the way to lake miles below. As strange as it was to be completely enveloped in the woods and still hearing cars sometime, the peace and calm from such immersion was restorative and calming. Even my evenings were great. Staying at various accommodations along the way made for a recovery treat!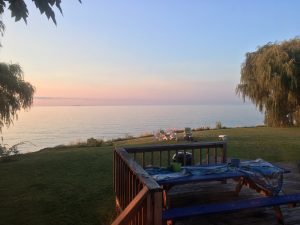 So, with all the positives that came along during this trek, there were also some negatives as well. As mentioned previously, the overage in clothing and equipment made for a more difficult first day. Also, the topography of the area and higher elevations reduced our daily distance from 30km per day average to 20-25km per day. Despite the reduced trail coverage, we still made good progress. The weather held, the bugs were barely there, and we made good use of water and breaks to not fatigue ourselves too much.
We saw a whole host of animals, interesting natural and man-made things and got a feel for some of the history and landscape in a rich area so close to home which we'd hardly get to explore had we not gone and done this. I'm very happy I had.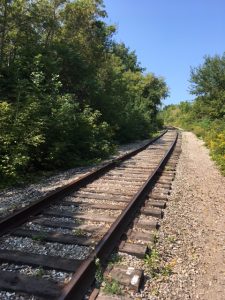 While walking along, I would think about how our context will change as we make our way farther north and farther away from civilization. Those sandals still won't have a place, but the axe and possibly more first-aid components due to a greater removal from access to emergency medical care. As we continue this journey piecemeal, I'll be constantly re-evaluating my set-up. With that in mind, to anyone thinking about traversing the Bruce Trail I would humbly suggest that you invest in the Bruce Trail Guidebook. It's very well laid-out, full of detailed topographical maps and chock-full of useful information. Well worth the $40. Also, ensure you have your compass and separate topographical map of the area. There were a few times where I had to shoot a bearing off a distant tree across an open field with no markings to ensure I crossed to the next trail marker and not on a side trail (or worse, off the path all together).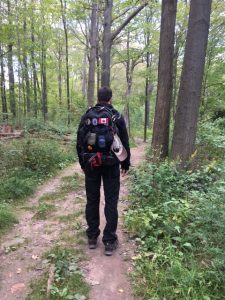 As we left the trail to get back home, one of the last things I saw on the trail gave me inspiration for not only continuing, but also for life in general. "Keep Going" it said. I guess that's really it in the end. Don't give up. Hustle and persevere and go for it.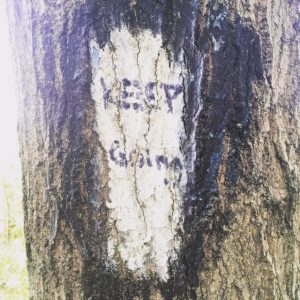 Till next time, stay safe and stay crafty.