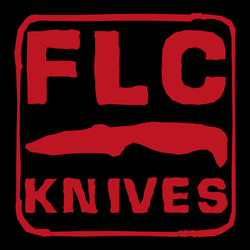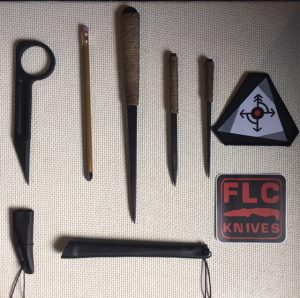 FLC knives are pretty interesting…
I haven't, to this point, dipped my toes into the waters of G10 implements. After doing some training down south of the border, I was introduced to G10 tools. Strong, non-metallic, non-magnetic, very light-weight and can be fashioned into almost any shape, I was properly intrigued. I reached out to Dave at Fat Lazy Cat Knives , just outside of Toronto, and read up on his materials, production processes and available models.
For those who don't know what G10 is (like I didn't) here is the explanation from Wikipedia:
G10 is a high-pressure fiberglass laminate, a kind of composite material.[1] It is created by stacking multiple layers of glass cloth, soaking in epoxy resin, and compressing the resulting material under heat until the epoxy cures.[2][3] It is manufactured in flat sheets, most often a few millimeters thick.

G10 is very similar to Micarta and carbon fiber laminates, because they are all resin-based laminates, except that the base material used is glass cloth. G10 is the toughest of the glass fiber resin laminates and therefore the most commonly used.
Dave and I chatted for a while and I arranged a small batch purchase to test and play around with. That was a few months ago. I have now had an opportunity to poke things with these sharps and I am very impressed with their durability, sharpness and craftsmanship.
As I can only speak to the models I have tried I will say that I received prompt, courteous service, fast shipping and nicely packaged products.
I received as follows:
Get Off Me Tool (GOMT) No. 6 in G10, stubby, offset, with Kydex sheath
GOMT No. 4 (ventilator)
GOMT No. 1 (Synthetic, Slim) with Kydex carrier
"Hatchlings" (both thick and thin profiles)
Cool stickers. (Thanks Dave!)
Immediately out of the box I noticed a few things:
SHARP points on all (good thing they come in protective tubing)
Very lightweight. I'd equate them to a pen.
Sturdy, durable and smooth.
The jute twine which furnishes the handles is comfortable and epoxied to hold the cordage in place. It works well.
Though I have yet to test them in an organic medium, they easily penetrate several layers of cardboard and towels. The points seem sturdy (none have broken yet, but again, no organic medium testing yet) and maintain their sharp points even after several uses.
The box testing I did (the photos in this entry are not all-inclusive) showed no damage to the points, an easy grip and to-the-grip penetration. The GOMT No. 6 even managed to cut the box (with the point) several times without noticeable resistance and maintain its integrity.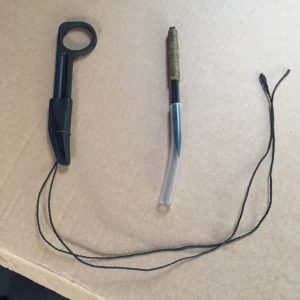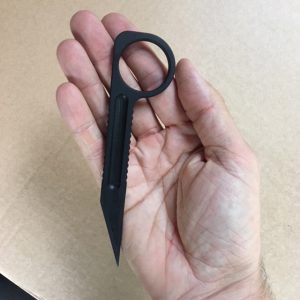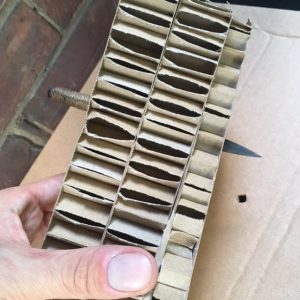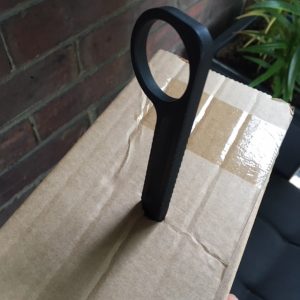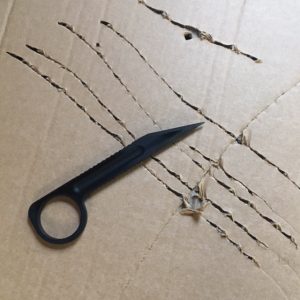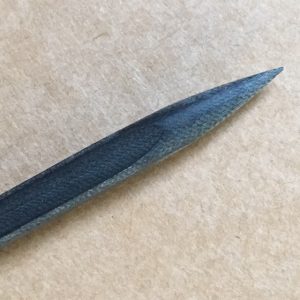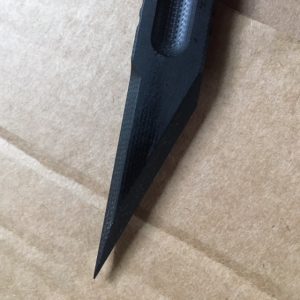 As you can see, the G10 penetrated with ease and there was no damage to any of the points. The ergonomics worked quite well and felt comfortable in the hand – easy to hold and manipulate. They can even be re-sharpened on concrete in a pinch!
To see some more, check out some YouTube videos of other testing of FLC Knives:
Get Off Me Tool #4 – Durability
Hatchling 2.1 – Organic Medium
All told, the implements made by FLC Knives are top-notch quality. I am very happy with my purchase and do not hesitate to recommend them to others. Just be careful, they're pointy.
Till next time, stay safe and stay crafty.