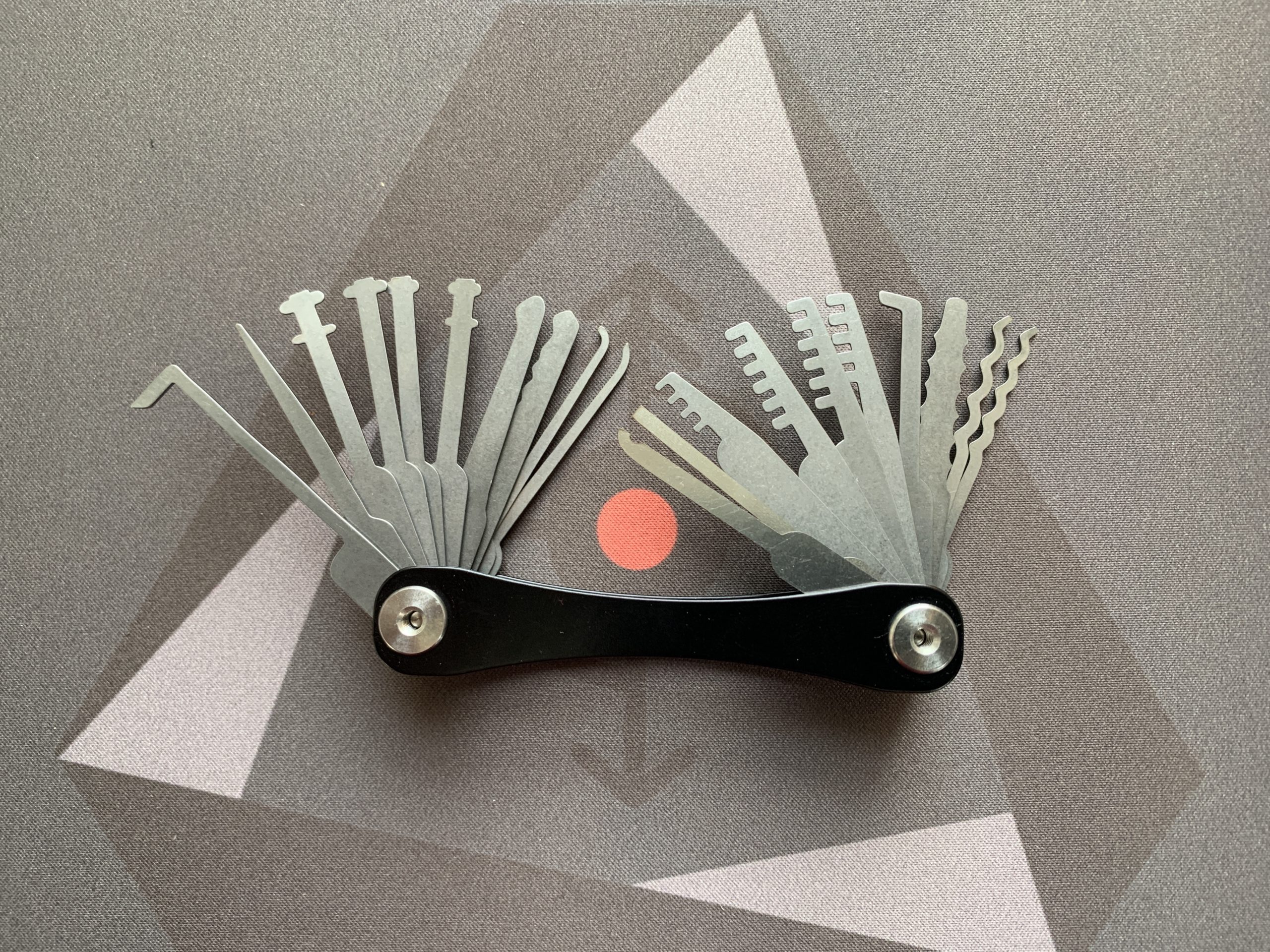 The Covert Companion is the new flagship offering from Covert Instruments.
With over 20 tools in such a compact package the Covert Companion is an absolute win.
Those diabolical minds at Covert Instruments have managed to cram 20 tools into this small, sleek package that will meet most people's needs for entry tools on a day-to-day basis. This includes everything from a sleek handle, to four pics, warded picks, a comb set, a jiggler set, a latch tool, a decoder knife and flat. Unbelievably, all this and more.
It is very effective despite its small size. I was able to effectively use all the tools on their intended locks without a problem and effectively bypass them or open them. (NOTE: I used the turning tool from my Camp-X toolset for all of my picking and it worked like a charm.)
The tools themselves are well-made and sturdy and the handle is able to take some abuse. It also helps that the Covert Companion is fully modular and able to add various other tools from the Covert Instruments lineup and interchange broken tools if needed. The entire package is about the size of a Bic lighter. This makes it's easy to carry, unobtrusive and small enough that it doesn't bother you in anyway. It's also very low-profile and does not attract any attentions as it looks like a simple key set.
That being said if you have larger hands (like I do) then you might have to adjust the way you hold it. Even still, the tools are fully functional and though because of their lack of handles may not fully replace full-size tools they still have the same capability and for that I am grateful.
One notable component which is missing is a turning tool. One would think that this was an oversight however the creators specifically left it out as turning tools are more of a subjective item for one to carry that may or may not be useful for the particular application. In their FAQs on their website they speak to the fact that you can provide your own turning tool that will be most useful to you under your circumstances. I found that the tools that they offer on their webpage will very nicely complement the Covert Companion should you need it. That said, turning tools are easily fashioned from other types of items in a field expedient manner. This means that you can use almost anything as a turning tool if you have to resort to using the Covert Companion to gain entry. As a pocket knife-type implement for small or not-so-serious entries this is the perfect addition to your every day carry (EDC).
The designers were able to incorporate not only the best and most useful and commonly used tools into a small package but they were also able to incorporate quality craftsmanship in the process.
The assembly of the Covert Companion is not difficult if you follow the instructional video that was posted by the @LockPickingLawyer.
I am very happy with my Covert Companion and find myself using it more often than I would have thought. Most recently I used it to open a service door to gain access to tools. I was not expecting to have to do so however the situation has changed and I happen to have my Covert Companion on me. It performed very well, as expected.
For the money you are paying you are getting an incredible product with a wide variety of tools which can cover an even wider variety of situations. So much capability in such a small package is quite incredible. I have now incorporated the Covert Companion into my every day carry and don't leave home without it. I look forward to getting a few more of these to add to my various bags and even in my car. Check them out at covertinstruments.com and pick one up for yourself today.
From covertinstruments.com : "For the person who wants to open everything, we present to you the fully loaded Covert Companion. This comprehensive kit includes all the flagship SSF tools at a discounted rate. With 20 tools, this kit offers the most opening potential in the smallest form factor on the market. This kit arrives unassembled."
Includes: Includes:
Covert Companion Handle
Handle Expansion Pack
SSF 4 Pick Set .025"
SSF 5 Warded Pick Set
SSF 4 Comb Set
SSF 3 Jiggler Set
SSF Latch Tool
SSF Knife
SSF Notched Decoder
SSF Utility Flat
Check out all of their products at covertinstruments.com and on Instagram HERE.
-Stay Crafty