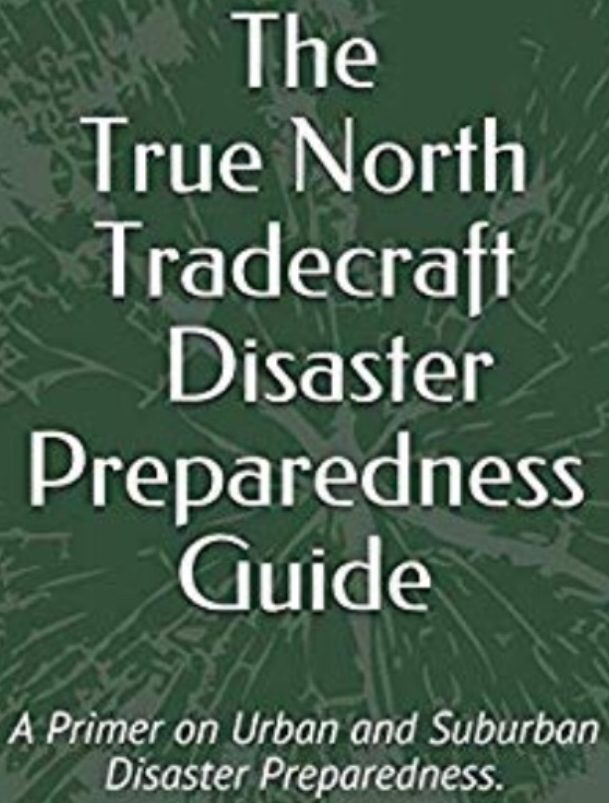 Are you ready for 2019? Make sure you are by picking up the The True North Tradecraft Disaster Preparedness Guide: A Primer on Urban and Suburban Disaster Preparedness.
PDF AVAILABLE THROUGH OUR STORE HERE
Paperback and Ebook available worldwide through Amazon.
Over the past long while, we have been working on a guide for urban & suburban disaster preparedness. This book is meant to be an accessible planning and development blueprint for those wishing to establish and maintain a reasonable level of preparedness to be resilient in the face of a natural or man-made disaster.
It outlines the basics of survival and preparedness in an urban & suburban context. This gives you a foundation to create your own preparedness plan and build emergency readiness kits. For instance, have your plans and supplies in place before something happens.
Many to whom I have spoken about preparedness are uneasy about starting, stating their biggest challenge was not knowing where to start. Most importantly, this book gives the beginner (as well as the seasoned planner), a solid foundation on which to build.
This guide covers:
Disaster Planning
Preparedness Psychology
Priorities and Strategy
Water
Shelter
Fire, Heating & Cooking
Food
Medical & First Aid
Health, Santitation & Hygiene
Communications
Light, Electricity & Backups
Special Considerations
Recommendations
and so much MORE!
It is also specific in two contexts:
It does NOT get into wilderness survival (as this is a topic all it's own) and;
It is written from a Canadian legal perspective.
This is our humble first edition to offer the tools of knowledge necessary for those who wish to prepare themselves and their families for future challenges, but don't know where to start. It also contains tidbits which should be useful to even seasoned veterans in preparedness.
When you fail to plan you plan to fail…don't let not knowing stop you. Get started today to be ready for tomorrow.
Stay crafty. Be ready.
Paperback and ebook versions available from Amazon in various markets.
(Search: True North Tradecraft)