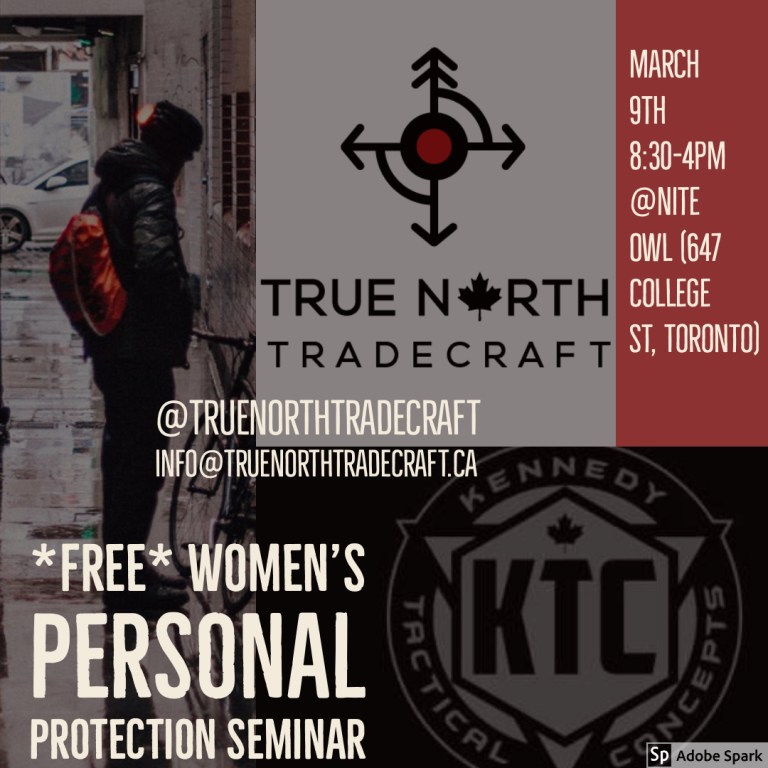 Sign up today. Space is Limited!
Women's-Only Personal Protection Seminar
*International Women's Day*
March 9th, 2019 – 11am-4pm
(647 College St, Toronto)
(In partnership with Kennedy Tactical Concepts)
Have you ever felt afraid or threatened while walking alone at night? When out and accosted by some creep? When travelling in unfamiliar places? Felt something was 'wrong' in your gut but didn't know what to do about it? Want to learn how to get out of handcuffs and other restraints?
Learn to understand your instinctive fears and use them effectively through understanding and awareness. Decrease and control your fear while maintaining awareness of threats and dangers, implementing personal security and risk management strategies and security tradecraft while building confidence in your abilities through training and learning.
Designed and developed to give you an advanced working knowledge of skills and principles which can be used immediately.
This class is exclusively for women only as it is tailored to providing a safe and positive environment for learning while highlighting women's-specific issues with regards to personal security and safety.
Our goal is to arm you with knowledge and skills while empowering you to take control and responsibility for your own safety and security.
Topics covered include:
Situational Awareness (SA)
Survival Mindset
Social & behavioural analysis
Security risk management
Hostile surveillance awareness
Violence dynamics
Kidnapping and abduction awareness
Unlawful custody – methods and motivations
Introduction to common restraint escapes and counter-custody (theory & practice)
Every Day Carry (EDC) recommendations
Personal protection principles & improvised weapons
Ambush response and immediate actions to attack
Travel security
Home security
No other self-defence class in Canada will prepare you to avoid violent encounters and give you the skills to facilitate escape from unlawful custody or personal security threats at home or on the road.
You can contact us directly to book a 1 or 2 day workshop for your group (Varied formats depending on length of workshop and group requirements).