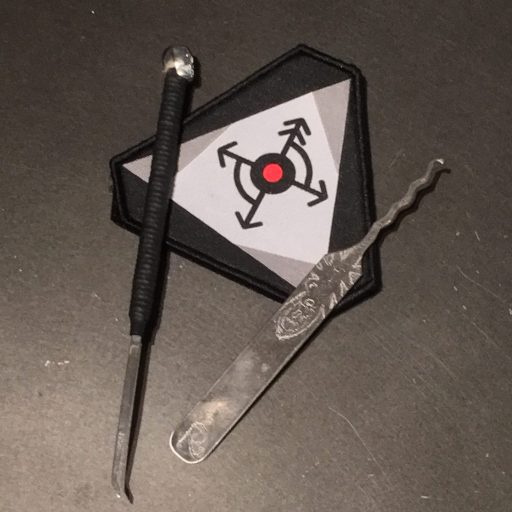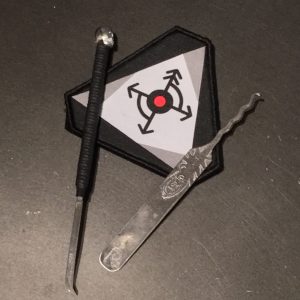 To this point, all of my lock picking has been done with "production" tools. Some cheap and flimsy, others high-quality. But this is my first foray into hand-made & custom lock picks.
Rare Element Lock Picks and Coyote Mountain Trading Post.
This review's purpose is not to pit one against the other, but rather to showcase both on their own merits as they are different. They are also custom-made for me, so your experience may differ. With that in mind, here are my thoughts.
I received a selection of picks and some other "tools" (including bump keys, handcuff keys, tiny patches, a glow stick & beads and a fantastic little pouch.
The picks themselves feature a variety of profiles. They come wrapped in cordage and shrink-sleeved with a rubber covering. Then they're topped with little silver skulls to ensure a level of bad-assery when picking.
The grip and finish are fantastic, however I find that the handles are a bit narrow for my hands. It's not that it hinders use in any way, it just causes me to use a different grip.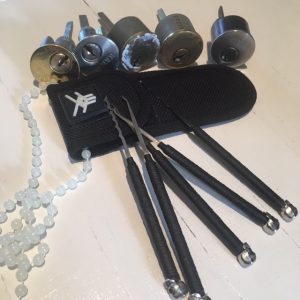 The only preference I'd change on these is the flexibility (bend from side to side) of the picks. Yes, I know that I'm not supposed to be bending them from side to side, but I am used to slightly more rigid picks. Again, personal preference. This does not detract from their effectiveness, I just find that the feedback takes some getting used to.
The second set I received was a "pen kit" which is a super-minimalist kit which fits into a pen body – VERY COOL. I took it along with me on a recent trip to New York and had zero issues with it. It works equally as well as the "regular" picks, but the handles are bare and the turning tool is not as versatile as the full-sized one.
The finish and polish on these are great and there is no noticeable drag through the lock bodies in any of my practice cylinders or padlocks.
The hand-made custom set of Rare Element lock picks I received took a while (RELP has a waiting list for his stuff, so be patient, it's worth the wait) and arrived in great shape.
I opted for a mix of rakes and some custom turning tools. The picks came in two thicknesses and various similar profiles. All were high-carbon steel. One was even hand engraved. VERY COOL!
The finish on these had an "acid etched" look to them which looked great and still benefited from the polishing they received. No drag or snag in any of the tested lock bodies.
The only thing I found, well, needing of some adaptability, were the custom turning tools that came with the picks. They had slightly different ends then I've been used to but once I got the hand of them and figured out a comfortable way to hold them, they worked very well. Also, the handles are straight steel with no additional grips or wrap added. This is personal preference. They are wider than the CMTP picks, but this isn't a negative. Just different.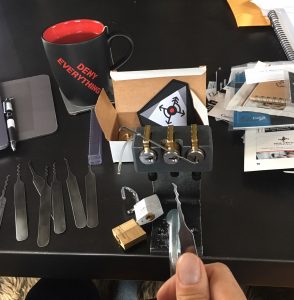 Picking cylinders and padlocks went very well with both sets. I have to say, it's very difficult to pick one over the other, so I won't. Both sets are fantastic. I would advise that if you have particular wants or needs that you contact each and discuss. Custom jobs are for particular needs and have requirements that only the person making the items can take into account. They're top-notch, period. If you're just starting out then of course, wreck some production stuff. But if you're feeling a bit adventurous, or are working with these types of tools professionally, do consider checking what these guys have to offer.
Check them each out at their addresses below:
Till next time, Stay safe and stay crafty.